Mine Safety in Kentucky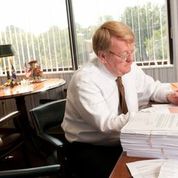 David Sloan, partner at O'Hara, Ruberg, Taylor, Sloan & Sergent, is a dedicated member of the Kentucky Mine Safety Review Commission ("MSRC"). He was appointed by Governor Steve Beshear on May 24, 2012 and served as Chair of the Commission. The MSRC is part of the Kentucky Energy and Environment Cabinet. It was created as an agency of our government because of the recognition that the highest priority and concern of the Commonwealth relative to mining must be the health and safety of the coal industries' most valuable resource – the miner.
The MSRC is made up of three members, consisting of the Chair and two Commissioners. Each member of the MSRC, by statute, must meet the same qualifications as a Kentucky Court of Appeals Judge and must complete the state's forty hour New Miner Training Program and attend yearly mine site visits and classroom training. As noted above, the members of the MSRC are appointed by the Governor. They must then be confirmed by the Kentucky General Assembly.
The MSRC conducts hearings, usually on a regularly scheduled monthly basis in Frankfort. The hearings before the MSRC are administrative and complaints are filed and prosecuted by the Kentucky Office of Mine Safety and Licensing. These hearings concern licensed mine operations, including deep and surface mining as well as certified and non-certified persons involved in coal mining. Such matters are brought before the MSRC when these entities or people are charged with violations of Kentucky's Mine Safety laws and placing miners in danger of injury or death. The charges can range widely and include unsafe mining operations as well as violations of substance abuse regulations by individual miners. Findings by the MSRC can range from not guilty or dismissal of the charge to severe sanctions, including revocations of an individual miner's license or permits of an operation and/or fines. Appeals of decisions from MSRC are to the Franklin Circuit Court.
David is proud to serve the Commonwealth as member and Chair of the Mine Safety Review Commission, protecting our workers and their rights.